Company History
About Executive Suite Professionals
ESP executive business center includes Office Suites, Meeting Rooms, Day Offices, ESP Desk Pass, and Virtual Offices. Take advantage of our luxurious reception area, various large conference rooms with views of The St. Johns River and The Duval County Court House, and a beautiful client lounge. The professional staff is always on hand to answer your calls, provide administrative support, and enhance your company's image.
All-Inclusive Executive Suites  – Furnished Offices –  Meeting Rooms – Conference Rooms  – Virtual Offices – ESP Desk Pass
 Zoom / Video Conferencing – Day Offices and Meeting Rooms by the hour or by the day!
Partners of Executive Suite Professionals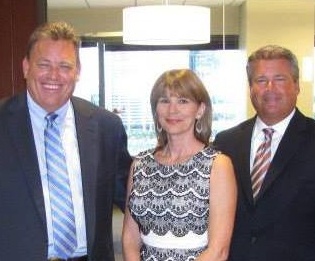 Lisa D. Gufford
Partner/Managing Member
Lisa is currently the Managing Member / Founder of Executive Suite Professionals, a full-service executive business center, providing office solutions for small business and entrepreneurs.  With over a decade of experience in the industry and with a large client base, she has a proven track record to take small business the next level.  The majority of her career has been focused on business management, and she has received several business leadership recognitions including being nominated for Jacksonville Corporate Leader of the Year 2010 and 2011.
There is a relatively small segment of leaders in the business world; individuals who seem able to build relationships, trust, and rapport with almost anyone, and then are able to broker the relationships and make connections between people, creating partnerships and alliances, and motivating forward momentum to 'get things done.  Lisa Gufford is one of those people, and 'getting things done' and driving results through collaboration,  partnerships, and relationships as a senior manager in the executive suite industry is what she is all about. With an enthusiastic and genuinely friendly attitude, Lisa radiates a sincere passion for delivering value and benefits to her clients.
Grafton D. Addison, III
Partner
Grafton D.  Addison, III began working in the Jacksonville commercial real estate market as a Leasing Manager with Koger Properties, Inc. in 1987. He quickly became their number one leasing agent and consistently ranked among the top 10% of the company's leasing agents nationwide. Mr. Addison went on to serve as Vice President for The Cantrell Weaver Company and later as Senior Vice President Office Division of Cantrell Weaver Real Estate Services, Inc.
In July of 2002, Mr. Addison obtained 100% ownership of Schultz Foster Addison Real Estate, Inc. by acquiring the outstanding shares of stock owned by the two other Partners. In November 2002, the name of the firm was changed to Addison Commercial Real Estate, Inc. to reflect Mr. Addison's sole ownership of the firm.
Bortie Twiford
Partner
Bortie Twiford is a Washington D.C. based entrepreneur and former Jacksonville resident who previously owned one of the largest Automotive Equipment Supply and Design firms in the country. Twiford's company was acquired in 2012, and he is excited to bring his design and real estate investment talents to Executive Suite Professionals.
"Executive Suite Professionals' partnership with the EverBank Center will surely provide the most attractive and convenient executive suites to northern Florida's professionals."
Twiford is extremely pleased to be partnering with two of Florida's most respected real estate executives. "Lisa Gufford and Duke Addison are aggressive industry experts, and I am proud to be associated with them."